WANT TO STUDY ENGLISH IN BEAUTIFUL CAPE TOWN? WE'D LOVE TO HEAR FROM YOU!contact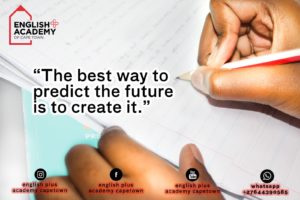 ABOUT US
OUR VISION
Our vision is to be a School that collaborates across disciplines to shape the learning of English in innovative ways in a uniquely  South African style so making an impact on the lives of foreign students and increasing the use of English as a language of choice both on the African continent and globally.
In order to achieve this we have adopted this mission:
OUR MISSION
We are a serious ,academic school employing professional staff. Our purpose is to provide a quality service to all our customers in a friendly and caring environment. We aim to ensure that every student's stay is both profitable and enjoyable and that all our students improve their English language skills, gain  an insight into South African life and culture and also enhance their knowledge and understanding of other cultures.
In everything we do we aim to:
Ensure our service provision in all areas is of the highest possible quality
Be fair, honourable, ethical, responsible and professional
Show value and respect for everyone we deal with: students, agents, host families, other clients, and staff
Promote the core South African Constitutional values of democracy, individual liberty, tolerance, and the rule of law
Provide a secure environment for work, study and relaxation
Be respectful of and responsive to the needs and expectations of our students
Provide staff with opportunities for training and development
Follow good professional and business practices
Provide excellent value for money
Maintain the commercial viability of the school
Enhance the reputation of English language teaching in South Africa
WHY ENGLISH PLUS ACADEMY?
• Small Classes – Maximum of 8.
• Business English offered at all levels.
• No enrolment or placement fees.
• Air-conditioning and heating in all rooms.
• Centrally situated in the beautiful city of Cape Town.
• Close to all amenities and on the My Citi bus route.
• Plenty of planned/organised social events.
• Assist students with travel plans.
• Assist students with VISA extensions.
• Offer various types of accommodation.
• Assist students in applying for further  tertiary studies.
Have professional and friendly staff.
ABOUT CAPE TOWN
Cape Town is known for its natural beauty, its culture, its history, and  its creative flair. The streets of Cape Town are packed with culture, history, art and local peculiarities. Some of the best ways to experience the city is on foot or perhaps you would like to cycle or skate through the city's streets, to discover it on a more intimate level. One of the things Cape Town is known for throughout South Africa is its food culture, with the city teeming with an abundance of restaurants, bars & cafes. There's something magical about Cape Town sunsets: the vibrant colours, the warm glow, and that unshakeable sense that – for a moment – all is right with the world.
FIND OUT ABOUT ACCOMODATION
Our accommodation facilities are suited to make your stay an enjoyable and pleasant one.